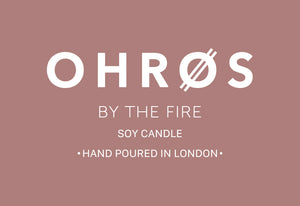 Picture the scene:- you're in a cabin, there's a roaring fire, tartan jammies on, you've got a blanket, maybe a doggo beside you and you're slurping a cup of hot choc. By the Fire... is exactly that, a subtle blend of: Amber, Chocolate, Smoke and Cedar wood. 
Hand poured in Hackney, London.
Small burn time - 22-24 hours 
Medium burn time - 30-35 hours
Double wick - 40-45 hours
Triple wick - 80-100 hours
Our scented soy candles are: 

Ethically sourced

Vegan made

Paraffin and phathalate free
truly obsessed
I love a lot of Ohros scents but this has been my go to recently. It's not like other smoky/fiery candles which can be pretty overbearing and intense at times - this scent is the perfect blend of smokiness, powdery warmth and all round good vibes ✨
Great burn
Great burn and Great smell from this one will definitely look at buying again in the future!
A strong favourite
Absolutely love this candle - perfect deep, warm winter scent.
I bought this one for my mum for Christmas and now have another OHROS convert!
Lushness in a pot
Lovely candle, clean burn and the smell is amazing! It's like someone is baking in my house with the fire lit! It's an evening captured in a scent. Love it
Comforting Smell & Top Quality Candle
I love the smell of it so much I want to carry it with me everywhere. Having a good day? Celebrate it with lighting an Ohros candle. Bad day? You need an Ohros candle for relaxation. Honestly, Ohros candles are for every situation. Highly recommended!