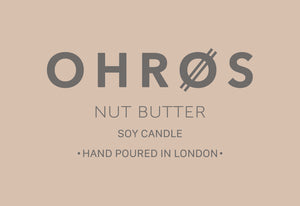 Hey sweetie! 
Inspired by a the best condiment in the cupboard. A blend of Coconut, Hazelnut and Almond. Some say it smells like sunscreen, some say it smells like nut butter. It's a sweet one, a great summer candle.
Hand poured in Hackney, London.

Small burn time - 22-24 hours 
Medium burn time - 30-35 hours 
Our scented soy candles are: 
Ethically sourced

Vegan made

Paraffin and phathalate free
Getting on with it
Nut Butter is the perfect candle scent if you like a background flavour to your home.
Rich, warm but modern
Sweet Little Nutty Treasure
A beautiful sweet nutty little candle that you can smell even when not burning it's lovely and a long clean even burn Ohros are now my new go to for candles far better than more expensive ones I've tried I love them
LOVE this
This is the best candle!!! I think this is my favourite, and I'm definitely going to be ordering more!
Amazing scent, amazing quality, amazing small business
I will always return to Ohros. You will not get a better scented candle than the Nut Butter!
Fills your room with the most beautiful smell!!
Tasty and subtle!
good enough to spread on toast. I do wish the scent was more OMMPH like the sunday morning candle when burning, but still beautiful!